1854-2014: 160th Anniversary!
During 2014, a series of celebrations were held to celebrate our growth from "Tent Church" to the present.
The First 60 Years
Incumbents at Holy Trinity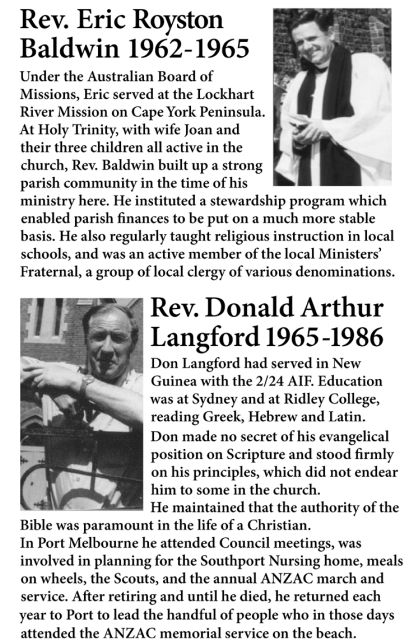 Early Shipping in Port Philip Bay at Sandridge
1850 Shipping Cattle at Sandridge near Liardet's Hotel
1854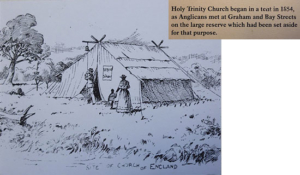 1855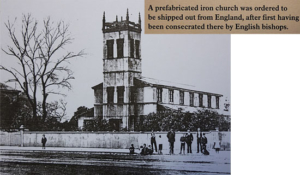 1868
1880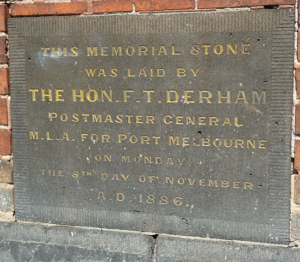 1898-1908
1908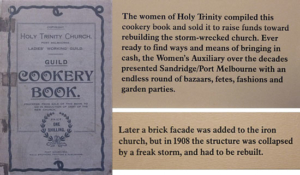 1913
1920
1956 – Confirmation Group
Top row:
John Barry, Noel Norton, Frank Julier, Leon Goldstein (holding cross), Phillip Gow, Michael Sullivan (?), Keith Jones, Ken Goddard, Paul Maybrick.
Middle row:
Rev. H W G Nicholls,  Wendy McColl, Sue Mah, Marjorie(?), Elizabeth Spencer, (?), (?), Mary Clymo, Margaret Simpson, Robyn Harrison, Helen Barry, (?).
Front row:
Vicky(?), Susan Tilley, Barbara Anderson, Celia/Sandra Crawford, Bishop McKie, Margaret Roberts, Sandra/Celia Crawford, Wendy Bickers.
(Please Note – If you are able to assist with these names, please make contact with Helen Barry. 
1979 Sunday School Group
Back row:
Lois Langford (daughter of Rev. Don Langford our minister), Rose Barry with the hat and fur collar, Gwen West, her daughter Pam West next to her, and Helen Barry in rabbit white fur coat on the far right. 
Notice the photo of the Queen on the left hand side wall.
1997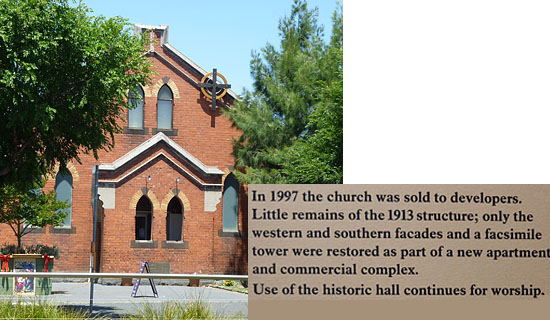 1999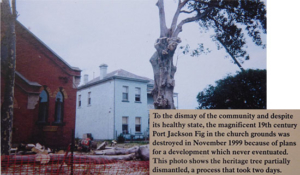 2000
2010 Apartment Complex
And so the circle is almost complete. The Holy Trinity Anglican Church continues in Port Melbourne, but has contracted into its historic 125 year old Church Hall, which is now the Church where worship continues.
The original main church building is now a part of a new apartment complex, as shown here, photographed in the late afternoon sun. Its main facade is still recognizable, but its tower has been replaced with a replica.
Our Present Situation
The Anglican Church has a long and fine reputation in Port Melbourne.
Holy Trinity church was established in 1854, and has continued ever since on this site, in a number of buildings.
After the sale of the church in 1999, the Holy Trinity congregation was small, and became itinerant because it lacked a permanent home base. The Rev Con and Sally Apokis left Holy Trinity in 2009, the Rev Lance Lawton was appointed as the Transition Minister to determine the future direction of the parish.
In May 2011, the Rev Noel Whale, having recently retired, was invited by Archbishop Phillip Freier to come to HTPM on a part time basis to re-establish the Anglican presence in Port Melbourne. We now meet in the parish hall, built in 1886 with many fine historic features. It has now been Commissioned as the Parish Church of Port Melbourne, and so continues a fine tradition of the Anglican Church from 1854 to 2014.